BDPA Co-Founder and Tech Industry Leader Earl A. Pace Jr. Dies at 79 | Obituary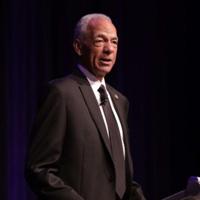 LARGO, Md. — Earl A. Pace, Jr., a Pennsylvania Railroad computer programmer intern who became an entrepreneur, a civil rights icon in the tech industry, and a strong supporter of tech inclusion initiatives, died Feb. after enduring a long illness, his family said in a statement. He was 79 years old.
"His care, love and sound wisdom will be missed by all of us as co-founder of Black Data Processing Associates (BDPA). The date and details of a memorial service will be announced shortly. Please keep us in your hearts and prayers," his family said.
A distinguished alumnus of Penn State, Pace had worked in the information technology (IT) industry since 1965. He left the Pennsylvania Railroad in 1967. Over the next decade, he rose through the ranks of programmer, programmer analyst, programming manager and up to vice president of a financial telecommunications company in Philadelphia. He became a business owner in 1976 when he incorporated Pace Data Systems, a full-service information technology company providing services and support through its offices in Philadelphia and Washington, D.C., primarily to banks and to savings banks.
In 1975, Pace co-founded BDPA in Philadelphia and served as its president for two years. In 1978, he coordinated the formation of BDPA into a national organization and served as its first national president until 1980. National BDPA became one of the largest professional organizations representing minorities in the computer industry.
In 1992, the BDPA Education and Technology Foundation (BETF or BDPA Foundation) chaired by Pace, was founded to support BDPA's educational and technical programs. In 2011, Pace was the first IT innovator honored at CompTIA's annual IT Hall of Fame induction ceremony.
Within BDPA and on a broader industry scale, Pace was a strong advocate for corporate ownership. His main message from the start of BDPA has always been that minorities should strive to rise above just "getting a job" while pursuing property, running their own businesses and landing a job. position on a corporate board of directors.