Generational enterprise: Kap Data the "original gangsta" of enterprise computers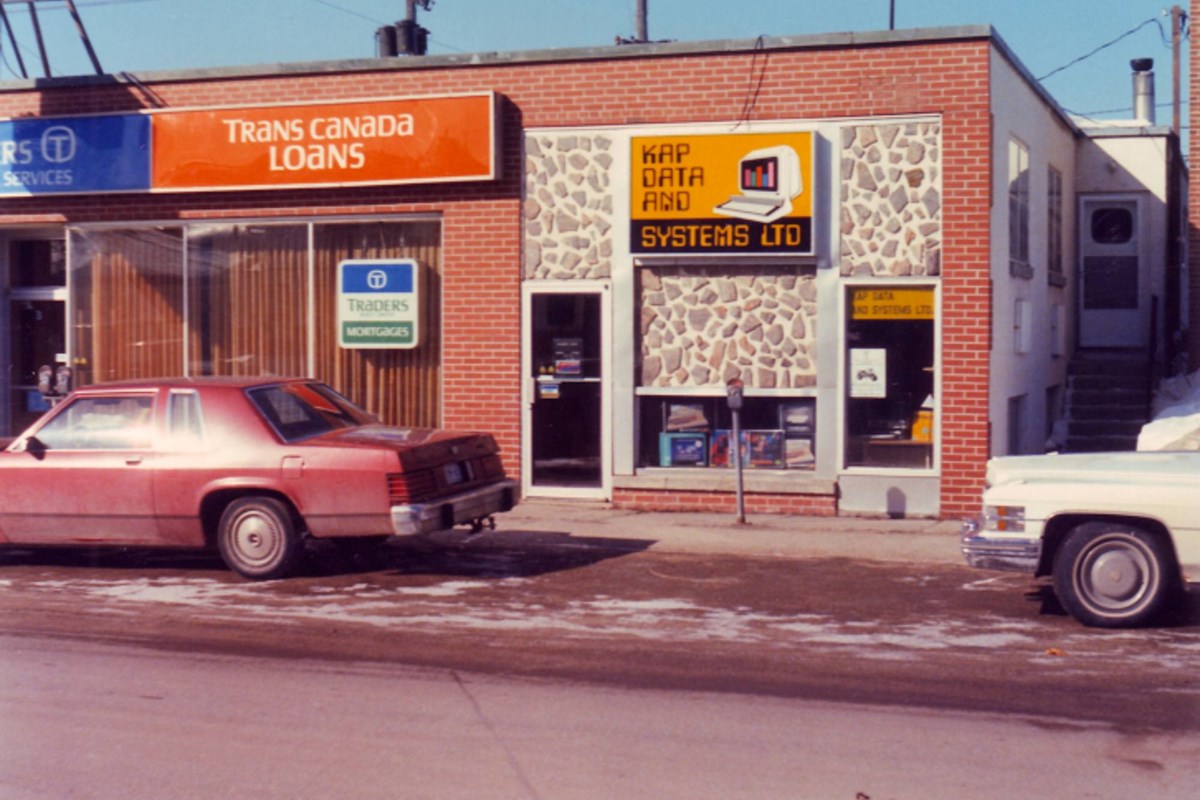 Started a technology solutions business in Kapuskasing, but now operates virtually in Northeastern Ontario
When you think of long-established B2B businesses in Northern Ontario, you often think of resource-based contractors and suppliers. But Kap Data is a rare company in Northern Ontario and most places in Canada: a technology solutions company that spans the era of enterprise computing.
Miro and Marthe Spacek founded Kap Data and Systems Ltd. in Kapuskasing in 1983. Marthe took care of all the important backend tasks that kept the business – and their family of four – afloat, so that Miro could concentrate on the technical aspects.
At the time, business computers were still far from mainstream and many thought it was a fad. But Spacek saw early on the potential of the computer and how it could be a particularly useful business tool in an area as vast as northern Ontario where geographic barriers were (and still are) very real.
Spacek took computers a step further than most, writing custom software for Kap Data customers.
He learned programming at Northern College in Kirkland Lake in the 1970s. In December 1982, he copyrighted "The OHIP Medical Billing System", Ontario's first electronic medical documentation system. He designed the custom software for a medical practice that wanted a faster, easier way to submit invoices.
"Every time a patient came in, the secretary would type in the code and the printer would print the card if needed," Spacek said. The fanfold prints would be collected in a box and then shipped to OHIP, saving the physician the time it takes to do it by hand.
This is just one example of many custom software packages.
Spacek also programmed a retail inventory system in 1975, municipal general accounting software, and artificial intelligence (AI) software for the mining industry in 2005. This system analyzed maintenance records from previous years to create future maintenance schedules, inventory needs, associated labor needs, and budgets. Spacek also had the foresight to use four-digit dates instead of two (e.g. "1983" instead of just "83"), so his clients would avoid year 2000 anxiety.
Another way Kap Data was unique was in its in-person service in such a large area. Spacek flew to places like Moosonee in his own Cessna Cardinal 177 – the same plane he flew as a pilot with Civil Air Search and Rescue (CASARA). His daughter Karyn Loree-Spacek, who took over the business in 2011, often flew with him.
"It was always exciting — we would follow the Moose River to Moosonee and Moose Factory," Loree-Spacek said. "He would give me the map to navigate."
Want to read more northern business stories? Subscribe to the Northern Ontario Business Newsletter here.
The name Kap Data comes from its roots in Kapuskasing, but it's also an acronym that stands for "Knowledge Acquisition Phase" – the research phase and the first step to writing intelligent code, as Spacek puts it. It is anchored in the philosophy of Kap Data. Kap Data does not ask, "What do you need?" but "What do you want to do?" Spacek has custom designed all of its software from this starting point. From the start, Kap Data focused on custom solutions, not specifications.
"There was a time when people would come in with a list of specs from another computer store," Loree-Spacek said. "'We need so much RAM,' or whatever, and my dad was like, 'Well, why do you need that?' They wanted to compare apples to apples. But he asked what they should do, and then he said, 'You don't need to spend all that money. That's all you need.'
Kap Data received a huge boost when Xerox approached the company to partner with them in 1986. Previously, large technology vendors would have traveling salespeople based in Southern Ontario to service the region. The Xerox Agent program enabled B2B at the local level. It has also opened up a world of equipment and support in Northern Ontario that businesses here might not otherwise have had.
Today, Spacek is (mostly) retired, and Loree-Spacek runs day-to-day affairs. The storefront is long gone; in perhaps another first, Loree-Spacek has operated the business virtually throughout Northeastern Ontario for many years now. She settled first in Thunder Bay (where her husband worked for the OPP) and now in Atikokan, regularly visiting communities along the 11/17 corridor.
Spacek still builds custom software, although it's not as big a part of the business. But designing custom business solutions remains the company's focus. Loree-Spacek considers their partnership with Xerox just as important today as it ever was. Kap Data has grown to be the Xerox Authorized Agent for the Timmins area in 2020. Xerox equipment is the springboard to meeting customer needs.
"That's actually the fun part," she said. "Equipment helps us get a foot in the door, but once we have the opportunity to develop a relationship with them, we have a better idea of ​​what might be missing and how we can help."
It can still come in the form of software thanks to Xerox's partnerships with software developers.
"We need to make sure we partner with bigger companies so we can bring these resources to the North," Loree-Spacek said.