How the pandemic has forced an evolution of the workspace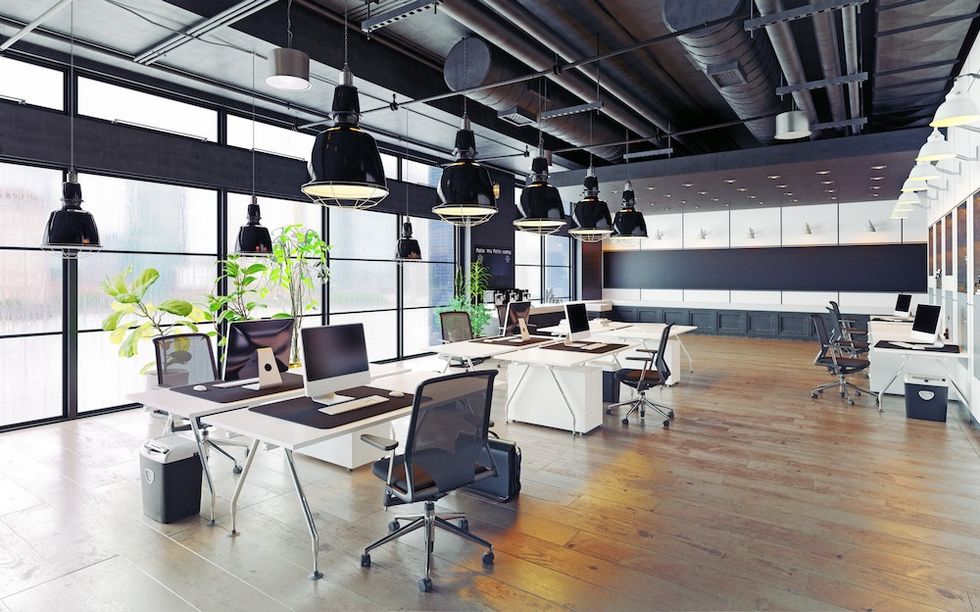 Written by
Penelope Graham
At the height of the pandemic, walking around Toronto's financial district was an eerie experience; taking the quiet intersections and shuttered businesses of the underground PATH showed just how much COVID has impacted the workforce and our lives.
However, while work-from-home mandates led to an initial hollowing out of city centers and ended commuting for many, today the office is not obsolete, far from it. Instead, the past two years have spurred an evolution in the concept of the workplace, says John DudaPresident of Real Estate Management Services Canada at Colliers.
"The office is not dead, not by a long shot," he told STOREYS. "I think that's going to stay true going forward, but how it's used will be a bit different."
Recent polls compiled by Colliers found that organizations appear to be leveling off in their "back-to-office" approach, whether fully in-person, remote, or a combination of the two. Office tenants are now less likely to downsize their space, with just 24% of respondents saying they want to, while 7% of businesses said they actually need more square footage .
READ: Vancouver office market stable despite AAA vacancies and hybrid work
What is clear is that more people are returning to the office full time; a survey finds that employees at 61% of surveyed companies work in a hybrid way, down 5% from their previous report, while 37% have full-time employees, an increase of 4%.
With so much in transition, flexible space has become increasingly important; Colliers reports that of companies considering flexible space — about half — intend to encompass more of their portfolio, at an average of 47% of their total square footage. Additionally, the impact of the changing desire for flexible space nearly doubled to 13%, compared to 6% and 7% in previous surveys.
The challenge for businesses, says Duda, is to understand how the needs of those physically present have changed since pre-pandemic; Determining a "new normal" is proving elusive and requires extensive trial and error as employers identify sticking points.
"The types of things that are being talked about are, 'I go to the office now to do different types of things. I'm going to meet, I'm going to train, I'm going to talk to someone; it may be less of a formal meeting, but I need to see people and have informal conversations," he says.
"There are a lot of simple things that no one has really understood yet, and you'd think it would be simple, but for some reason it's not. You go to companies and they have places parking lots for staff in these buildings – well, why not just take a bunch of monthly parking spots and share them? But how do you do that? No one has an answer."
Plus, demand is booming for an agile workspace, Duda says, like different types of meeting rooms, increased privacy and fewer cubicles. Improved technology, such as team meeting setups with rotating cameras and instant computer connections, will become the new norm.
"Let's say I have a meeting and I have staff all over the country, but there are a number of people in the office," Duda poses. "Do I have a room?" I do not know. Who is here? I do not know! But the technology should be able to say, "You three are sitting together in the office, okay, get a room," and do it very easily. I don't have to walk around, I don't have to knock on doors, I don't have to call anyone, but right now it's really hard.
Duda thinks these pain points will stick around for another year or two, and that — while it's impossible to predict how COVID will evolve — the need for collaboration is too great for some types of workers to stay remote indefinitely.
"The tech companies we deal with all say the same thing: 'I can't develop a product easily with everyone dispersed and at home,'" he says. "I've done business with some banks and they say their product development teams are a mess – it's just not going well. There are some things that just don't work well.
Written by
Penelope Graham
Penelope Graham is the editor of STOREYS. She has over a decade of experience in real estate, mortgages and personal finance. His commentary on the housing market is featured frequently in national and local media, including BNN Bloomberg, CBC, The Toronto Star, National Post and The Globe and Mail.
More from the author