Jokowi calls on furniture companies to ensure forest sustainability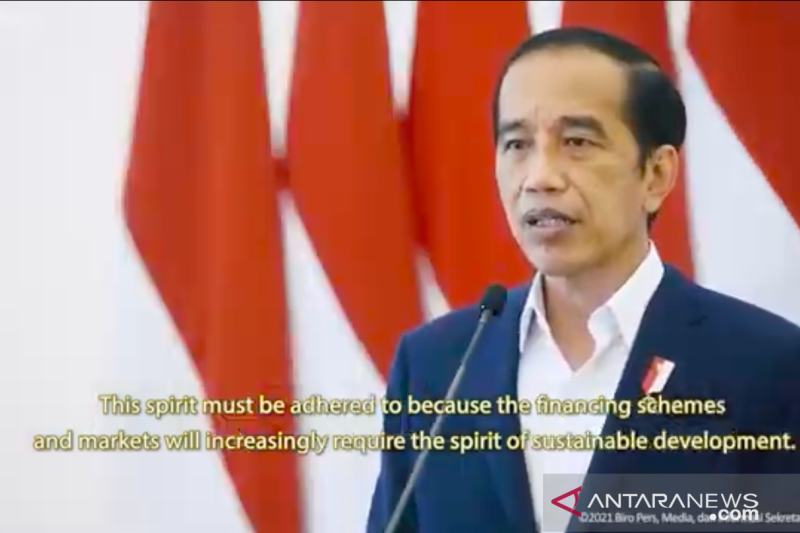 The supply of raw materials must maintain the sustainability of forests, the production process must be low carbon, economic benefits must be obtained by lower class communities
Jakarta (ANTARA) – President Joko Widodo called on furniture companies to improve the quality of their products for the global market, maintain the sustainability of forests as a source of raw material supply, and implement low carbon production activities.
"The supply of raw materials must maintain the sustainability of forests, the production process must be low-carbon, the economic benefits must be obtained by lower-class communities," Widodo said during the virtual showroom of the International Furniture Expo (Ifex) 2021.
The domestic furniture industry must be able to increase its competitiveness in the global market, he stressed. However, the competitiveness of the industry should not be limited only to the quality of the products, but also to the values ​​which are strongly defended, starting with the production process, he said.
The president then urged players in the furniture industry to commit to pursuing sustainable and environmentally friendly development, encouraging low-carbon production and distributing economic benefits in an inclusive manner.
"This is my (message) to players in the furniture industry. This spirit must be firmly maintained because financing schemes and markets will increasingly require the spirit of sustainable development ", underlined the president.
Ifex's virtual exhibition is a strategic arena for producers in the upstream and downstream sectors of the furniture industry, as well as for potential buyers nationally and globally, he said.
"Not only to meet, but what is more important is to make transactions," he added.
The global market is no longer limited, Widodo noted. Indonesia could be the right arena for an international exhibition like Ifex, given that the country is rich in furniture raw materials, has a variety of arts and has a very large market capacity, he said. declared.
"I expect the virtual showroom of Indonesia International Furniture Exhibition 2021 to be a boost for the revival of the furniture and craft industry which refers to the spirit of the sustainable development, "said the president.