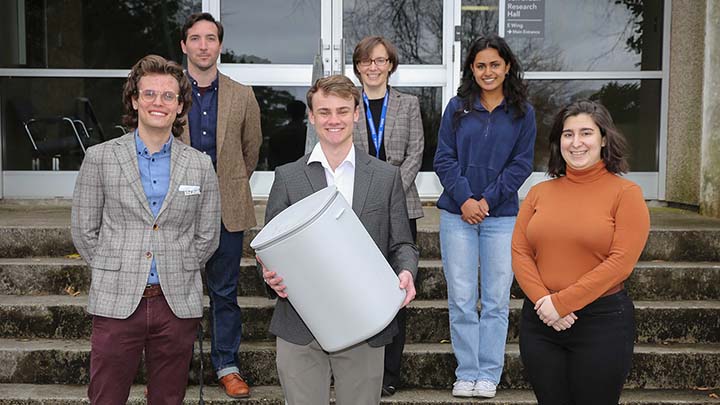 VioClean, a clothing and towel sanitizer that uses technology patented by the University of Alabama at Huntsville (UAH) won first place from a team of students and $8,000 in the recent Boeing New Business Challenge.
"Our technology capitalizes on the germicidal properties of UV-C light to reduce bacteria to a level that doesn't cause foul odors in the towel or garment," says Memphis-native Andrew Zelinka, a mechanical engineer at the 'UAH, part of the university. of the Alabama system.
"Once sanitized, our product also has the ability to warm everything inside and apply a fresh scent for a pleasant user experience," he says. "Our sanitizer can be used for towels, everyday clothes, shoes, etc."
The leader of the VioClean team, Zelinka is also a marketing intern at UAH's Office of Technology Commercialization (OTC) and was in charge of the marketing and sales side of the competition.
The team developed a working prototype and their test results show that UV-C light kills more than 99.9% of bacteria in the fabric after 20 minutes of exposure. The team members see a major market for VioClean in today's towel warmer market.
"In this market, we intend to first establish ourselves in the residential segment and then move into commercial applications such as spas, hair salons, hotels, etc.," says Zelinka.
UV-C technology was invented by Kailyn Grant when she was dueling at UAH in the fall of 2021; Dr. Aubrey Beal, assistant professor of electrical and computer engineering; and Dr. Tanya Sysoeva, Assistant Professor of Biological Sciences. Currently, two patents are pending with the OTC at the United States Patent and Trademark Office.
OTC developed the VioClean competition team and it was mentored by OTC Director Kannan Grant.
"Kannan Grant saw that this would be a great opportunity for a team of students to learn how to take an idea from its nascent stages through prototyping, testing, developing a business plan and eventually raising seed capital," says Zelinka.
The team members are Zelinka; Ethan Punch, an electrical engineer from Thibodaux, Louisiana, who developed the product realization efforts and a working prototype; and Layla Jeries, a bioscience junior from Huntsville who tested the product and measured the effectiveness of UV-C light in the tissue.
Zelinka and Punch are graduating this semester, and Punch has expressed excitement to continue refining the VioClean prototype.
"We view the Boeing Challenge as a first step in raising investment funds," says Zelinka. "The OTC is already in contact with a few local companies and entrepreneurs who have expressed interest in commercializing this technology."
Grant says the Boeing event was very competitive.
"The team did a very good job of delivering a commercialization plan for an innovative technology," he says. "After the contest, I spoke to several contestants and the judges, and each of them wanted to know when they could buy this clothes sanitizer. Some even suggested that the team should present on Shark Tank.
OTC's participation has been rewarding, he says.
"OTC has been involved from the start. We helped bring together relevant technology, as well as a team with the exact knowledge to add value," says Grant. "I think we achieved our goals."
For the VioClean team members, the knowledge and experience gained was worth the competition, says Zelinka, with or without the prize money.
"We are thrilled that UAH can provide students like us with this wonderful opportunity, and for those of us graduating this semester, it's the icing on the cake of a great experience at UAH. ", did he declare.
"Through my experience at the OTC and the Boeing New Business Challenge, I have gained a tremendous appreciation for entrepreneurship, and whether or not it is with this technology, I definitely see myself pursuing entrepreneurial aspirations related to technology. on the road," Zelinka said. "I think I speak for the team when I say it has been the most rewarding experience I've had at UAH."
---